Direct Approach News!
All Plugins
For a Price You Choose!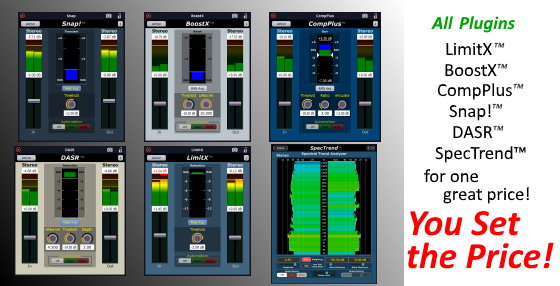 All Plugins Now Only

You Choose the Price!
You can choose your own price for the All Plugins Bundle!. The All Plugins Bundle includes SpecTrend™ and all our great dynamics plugins to make it easier than ever to get that perfect mix. So go to www.directap.com/detail/AllPlugins to get your copy, and make... your sound, only better!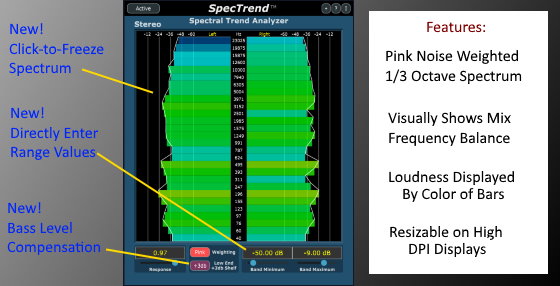 SpecTrend™ Included

in AllPlugins Bundle!
SpecTrend™ 2.0 with resizing capability and streamlined interface, included with AllPlugins bundle! SpecTrend™ continues to be our best seller because it makes balancing your mix easy, and many make it a standard part of their mix chain. And, we have updated all of our plugins and kept them at great pricing also! So, go now to www.directap.com/detail/SpecTrend to get your copy.
For more information on SpecTrend™, check out our blog, https://www.theRecordingMusician.com and scroll down to the SpecTrend™ article.
Direct Approach,
Your Sound, Only Better!
www.directap.com - visit our website to see all of our products!.
Downloads Page - click here to find our downloads. Free login account required.
theRecordingMusician.com - our BLOG site with information for those who record one track at a time.
Billy Wall - Official Website - the music of Billy Wall (and now available on Spotify!).
---
SpecTrend™ - 1/3 Octave Pink Weighted Spectral Display that shows all frequencies at the same level for a balanced mix!
---
BoostX™ - bring up those low levels so they sit in the mix, and make easy adjustments to mix balance, plus dynamics automation!
---
LimitX™ - transparently control digital overs by intelligently adjusting samples, and read/write dynamics automation!
---
Snap!™ - put back the attack to add life into your tracks. Effective way to improve transients, and even automate the dynamics!
---
DASR™ - our new de-esser with the unique ability to read/write dynamics processor automation!
---
CompPlus™ - our unique compressor with articulation, does gain riding as well as compression, with read/write of the dynamics processor automation!
---
Downloads Page
Download plugins for 64bit Mac and PC, VST, VST3, AU, AAX.
© Direct Approach 2020
To Unsubscribe go to https://www.directap.com/Account/Manage login and click Unsubscribe.