All New! 64 bit PC and Mac - VST, VST3, AAX, and AU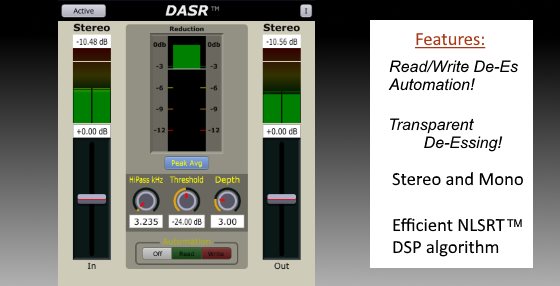 Plugin Video
All plugins available now!
Download and try before you buy!
DASR™ - De-esser that writes automation! Yes! Now you can have full control of de-essing process!
A de-sser that writes automation, so you can adjust the de-essing to suit your needs, or even write the de-esser automation from scratch and have DASR™ replay it. You have full control over the de-essing process. This gives precise control over the sybilants and plosives since you can view and edit the dip in the dynamics curve to tailor the perfect vocal.
Included in AllPlugins Bundle
64 bit PC and Mac, VST, VST3, AAX, AU
---
Using the frequency and depth controls, you can zero in on the needed level of de-essing. And then you can write the automation and edit as necessary. Yes, a de-esser that writes automation! De-essing just got a lot easier, and with unprecedented control. DASR™ allows you to fine tune the processing by recording and viewing the automation. You can then adjust as needed to achieve the perfect result! All of our plugins use 64 bit processing wherever possible, and are even capable of processing 64 bit data, if your DAW provides it. DASR™ has a fully functional free trial. Download and try it today!