Buy All Plugins for Great Savings!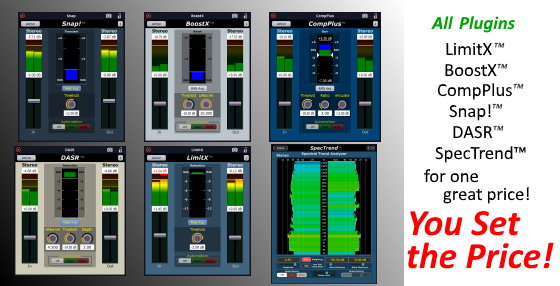 Plugin Video
All plugins available now!
Download and try before you buy!
Buy All Plugins - Includes SpecTrend™, our most popular plugin!
You can buy all of our plugins in a package deal.
Included in AllPlugins Bundle
64 bit PC and Mac, VST, VST3, AAX, AU
---
Through this special offer, you can now purchase all of our plugins for one great price! You will get LimitX™, Snap!™, BoostX™, CompPlus™, DASR™, and SpecTrend™ for a price you choose! See the individual product pages for product details. Just select your price and click the Buy Now button on this page or any of the individual plugin pages. Our system will add all plugins automatically after your purchase is complete.