All New! 64 bit PC and Mac - VST, VST3, AAX, and AU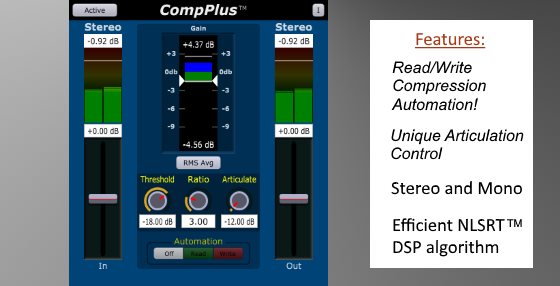 Plugin Video
All plugins available now!
Download and try before you buy!
CompPlus™ - Amazing compressor with dynamics automation and articulation control! Total dynamics control!
CompPlus™ is unique in that it will read/write compression automation curves! Yes! You can now see and control just how the compressor works by viewing the automation of the actual compression dynamics. Plus, you can control the articulation with automatic gain compensation at the end of words and phrases, in many cases eliminating riding the fader! Yes, CompPlus™ will ride the fader for you, both increasing and decreasing gain as necessary!
Included in AllPlugins Bundle
64 bit PC and Mac, VST, VST3, AAX, AU
---
ComPlus™ allows full control over the dynamics of your track. By enabling the automation, you can view, and then edit the dynamics for precise control. And since the articulation control is available also, you can make sure those trailing notes and vocals are clear and clean, without the need to ride the fader. CompPlus™ will do all of this automatically, or you can enable the automation in your DAW to have total control and edit as the track dictates. All of our plugins use 64 bit processing wherever possible, and are even capable of processing 64 bit data, if your DAW provides it. CompPlus™ has a fully functional free trial period. Download and try it today!